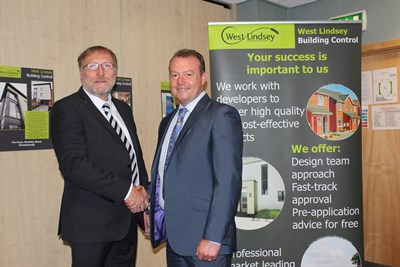 West Lindsey District Council's Building Control Team was delighted to welcome Mitsubishi Electric to present at its latest CPD session.
Delegates from across the industry were invited to hear from the experts about the energy related products directive (Erp).
Mitsubishi Electric has been growing and expanding its network and services throughout the UK, for over 35 years. Today, their professional team work closely with customers to meet challenges and develop new opportunities using the wide range of world class Mitsubishi Electric products.
Stewart Thompson, Renewable Heating – Regional Sales Manager from Mitsubishi presented the session.He said: "The two sessions that have been hosted today on domestic air source heat pumps and ERP have provided the delegates with information on applying heat pumps in the home. They have also helped with knowing the factors to consider for getting this right as well as information around the regulations for heating products and packages.
Senior Building Control Surveyor, Trevor Durant added thanked Stewart and the delegates for attending.
He said: "It was a pleasure to host the CPD session by Mitsubishi today, this session was put forward as a suggestion from one of our clients and we are delighted to be able to host this and add them to our compliment of sessions we are running throughout the year.
"We have monthly CPD sessions planned in for the rest of 2016, the next one being from Wolfin on 16 September, this will focus on cost effective refurbishment of failed flat roofs."