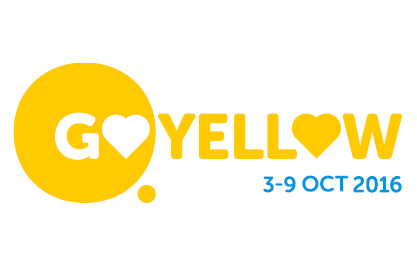 Join in the fun this October and Go Yellow for St Barnabas Hospice!
The colour yellow has long been associated with the hospice movement and represents happiness, energy and positivity, which is what we hope to be for our patients and their families.
Show your support for your local hospice and help us to raise money and awareness across Lincolnshire by doing something yellow. We would like to encourage everyone in the community to get involved and it couldn't be simpler; whether you have a yellow dress down day, dress up like a minion, hold a yellow bake sale, wear one of our Go Yellow wristbands or bathe in a bath of custard, there are a number of things you can do to Go Yellow!
So join together with your classmates, work colleagues, family and friends and help us to paint Lincolnshire yellow!
You can pick any day throughout October to do something yellow, if you would like to request one of our Go Yellow fundraising packs, which includes stickers, posters, balloons and sponsor forms please click on the button on the right.
You can also show your support by wearing one of our Go Yellow wristbands, which we will be selling for £1. They can be purchased throughout October from any of the St Barnabas shops.