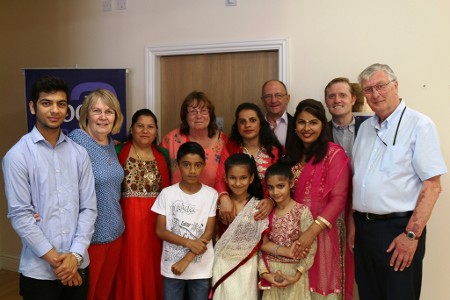 A community venue has been among the successful applicants to benefit from South Kesteven's Community Fund.
The fund was announced in 2015 for local groups or individuals to apply for part of a £300,000 pool of grant funding that the Council considers for projects to benefit the district's residents.
SKDC's Leader and Executive Member for Growth Cllr Bob Adams said: "The improvement for those attending the English Club at this venue is a great example of why the Community Fund was introduced.
"In this case attendees can relax and learn a language in a more comfortable environment and enjoy fresh refreshments in an area of the venue improved through support from the Community Fund.
"Anything that can assist engagement between our local communities and individuals in projects such as this is exactly why the fund was set up.
"Applications are welcomed from other local groups for funding in forthcoming rounds.  Groups can apply at any time throughout the year with decisions on applications taking place in September and January."
Lincolnshire Community and Voluntary Service administers the Community Fund on behalf of the Council. Applications are judged on criteria that seek to support community projects or events that demonstrate wide community benefit.
Applicants can apply for funding to improve community amenities or buildings and can also support community enterprise. A maximum of 80 per cent of the total cost of projects can be applied for. Applications of between £500 and £10,000 are allowed within this funding stream.
The Fund can also support community celebrations, sports events, street festivals, arts and cultural events. Again, up to a 80 per cent of the project costs is the threshold for those wishing to apply for between £200 and £5,000.
Jubilee Church Life Centre in Grantham has secured furniture and equipment for their English Language Learning Club that gives free weekly language courses to individuals from around 10 nationalities across the town and surrounding area.