Written by Sophie Lloyd: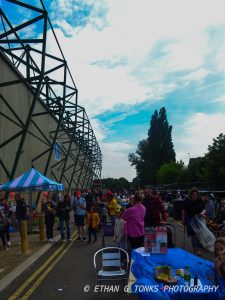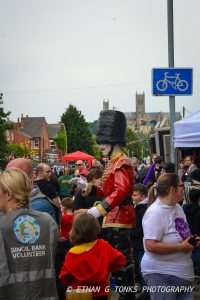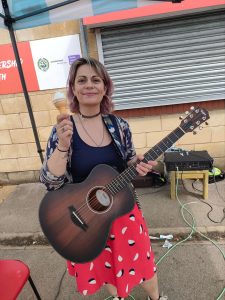 Sincil Bank residents gathered on Friday for a street party to celebrate the Queen's Platinum Jubilee. Hosted by the Lincoln City Foundation, several local creatives and community groups came together for an afternoon of music, craft activities, games, and live performances from Lincolnshire talent.
Taking place from 11:00am to 4:00pm, entertainment included Mr Custard, a Balloon Modelling Magician, who made free balloon creations for youngsters. From 2:00pm to 3:00pm, singer and acoustic guitarist West End Girl – real-name Rebecca Callow – delighted visitors with her renditions of "sing-along classics" including Britney Spears, The Beatles and Gloria Gaynor. Her first-ever solo gig, Rebecca was nervous, but the crowd made her feel "very welcome."
"I felt really privileged to be part of a community event like this," she said. "I hope that everyone enjoyed my music and singing along!"
Sealestial Productions stole the show with their improv comedy set. Performers Owen Lewis, Joe Hayden, Tyson Warren, Josh Blanchard and Sophie Lavender delighted the audience with a variety of games. From recreating a couple's first date to a scene filled with nothing Twilight quotes, the comedy quintet had attendees in stitches.
Sophie described the opportunity to perform for the Platinum Jubilee as "magical."
"Improv and engaging the public in local comedy and arts is always a great time," she said. "The Sincil Bank community created a brilliant day for families of all ages, with plenty of laughs and joy."
To wrap up the celebrations, Mayor of Lincoln Jackie Kirk handed out awards for Best Dancer, Best Crown and more Jubilee-themed categories.
Lincoln City Foundation chief executive Martin Hickerton said: "Lincoln City Football Club has been at the heart of the Sincil Bank community since 1895, and this is a small gesture of appreciation to thank our neighbours for the vital role they play making us what we are."