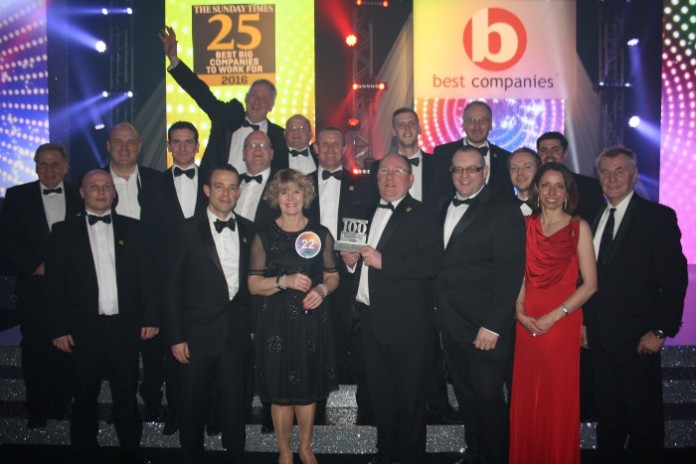 After twelve years appearing in the 'Top 100 List of Companies To Work For' Lindum has again been crowned as the top construction company to work for in the UK.
Lindum employees were among the guests at last night's prestigious awards ceremony for 'The Sunday Times Best 100 Companies to Work For' held at Battersea Events Area, London and heard first hand that Lindum was named as the top building company and ranked 22nd overall.
Paul McSorley, Board Director, said "Being named as one of the top 100 companies to work for in the UK is a major achievement for any organisation but as a construction company where many of our employees are working outside on building sites during the winter months when the survey takes place it is even more remarkable."
"I know Lindum has an impressive track record of appearing in the Top 100 list for over 12 years however this is never something which is taken for granted. As the results are totally governed by what our employees say about the company, we take this very seriously as a measure of our performance and it helps identify areas where we can improve."
The Sunday Times Best Companies to Work For' lists are compiled based on research from the largest survey of its kind and this year 834 organisations applied and 408,573 employees were surveyed. The survey measures things such as personal growth, wellbeing, giving something back, leadership and team spirit.
The 18 employees from across the Group were joined by three clients at the high profile awards evening.
Phil Dudding, Construction Director with Lindum since 2000 and Andy Starsmore, Working Foreman with the Lindum BMS Team since 2006, were among those who attended the event at Battersea Events Arena, London, on Thursday 25th February.
Phil Dudding said "Being part of a team that delivers what it promises and operates in an honest, open and professional manner is very rewarding. After spending my whole career working in the construction sector, the last 16 years of which with Lindum, I can speak with some certainty that the team we have here are among the best there is, not only in our industry but in any business. Everyone shows real commitment and strives to do the very best job possible for clients, partners and colleagues alike– it really is a great place to work mainly because of the people."
Andy Starsmore said "You spend a lot of time at work so it's important you enjoy your job. Working for Lindum for over 10 years now means I have seen the company grow and change but the underlying values have remained unchanged. Everyone looks out for each other and takes pride in the work they do and owning shares in the company means we have a real stake in its success."
The specialist roofing and cladding division of Lindum Group, KGM Roofing sent along one of their estimating team Oliver Bemrose. Oliver said "After leaving school my first job was in retail but I decided to change career direction and joined KGM as a trainee estimator in 2007. This was the best decision I could have made as, thanks to the training and development support I have received, I am now employed as an estimator and loving my job and the people I work with."
Representing the York Office was Senior Construction Manager Jon North who originally worked for Lindum as a Site Manager before returning some 10 years later after spending time in a senior role with a large international construction company. He said "I know first-hand what a great company Lindum is to work for and this has not changed over the years however it is very gratifying to see how well we compare to other mid-sized companies from all sectors across the whole of the UK. I am exceedingly proud to be a member of Lindum and enjoy playing my part in a team whose focus is to look after our clients, partners and colleagues."
Jonathan Austin, CEO and Founder of Best Companies, added "I would like to congratulate Lindum on their outstanding achievement. We know that the main challenge for many organisations this year will be talent attraction and retention. For organisations like Lindum that have demonstrated their ability to create an engaged workforce and recognise the importance of caring about their employees, they are in a good position to retail and attract the talent they need."