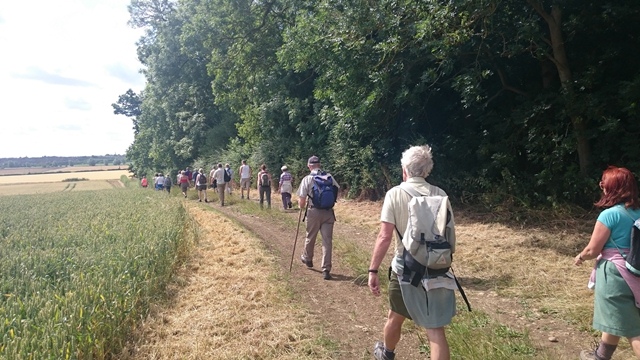 Get your walking boots on and step in to a week of walks fit for all ages starting Saturday 9 July. The North Kesteven Walking Festival will be a 9 day event offering walks for all ages and abilities as well as showcasing the walking opportunities across the district.
Last year's festival saw a visit to Cogglesford Watermill in Sleaford, a Pie & Pea Supper at the Natural World Centre, Whisby Nature Park and even a visit to the Magna Carta Vault included in the Spires and Steeples walk in the first weekend.
The programme is very near completion and 20 new walks have been confirmed which will run alongside the successful health walks programme that currently runs across the district. Walks include guided photography walks, geocaching, history walks and waggy tails walks. You can also discover the many uses of wild flowers and weeds during the herb walks and for those who prefer a longer walk; there are various opportunities for you to get involved in. With daytime and evening walks on offer there's a wide variety of themes to suit many interests.
Returning walks include the 'In Search of Queen Eleanor' walk which had over 50 attendances last year and the Natural World Centre's evening walk which will offer a walk around Whisby Nature Park followed by a curry night in the Boardwalk Cafe.
"We're really looking forward to this year's festival!" says Events Manager, Donna Sutton. "We had a great turnout last year and the support we received was just great. We have some fantastic walks planned for this July and look forward to sharing more experiences raising awareness of what North Kesteven has to offer."