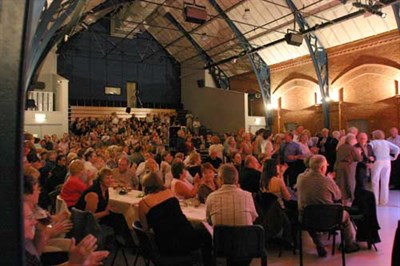 This Saturday, lincolnshire people will be pitching project ideas to each other for projects that they believe will make a positive difference to the local community.  The winning pitch will receive a £250 investment to make their idea a reality.
So how does it work? Tickets for the event are available for £5 from Lincoln Drill Hall's Box Office. Audience members will hear pitches from invited applicants who want to make a difference to life in the city. Each pitch will be no more than 5 minutes long and the audience will be invited to ask up to five questions to dig a bit deeper into the idea.
Over a nice lunch of soup, audience members can discuss the proposals they've heard before casting their vote for the project they would most like to invest their ticket money in. The idea with the most votes will receive the audience's collective investment, which will be all the money raised through ticket
The event, organised by Compassionate Lincoln, is the first of its kind in Lincoln. It will be the first of many events that aim to support communities and promote respect, tolerance and compassionate action in the city.
Steve Kemp of Compassionate Lincoln said:
"There are lots of people in the city with good ideas for ways in which things could be made better for local communities, so the aim of The Big Lincoln Soup is to encourage and celebrate those ideas and give support that will help make the winning ideas happen.
"When local people invest in the enthusiasm of others, making a positive difference becomes so much easier."
Local business, Stirlin Developments are sponsoring the lunch to ensure that all ticket money can be directly invested into the winning project.  Lincoln Drill Hall and OpenPlan are also sponsoring the event.
Fifty places are available for the event will all ticket money going to the fund for supporting the selected project.