Following the death of Queen Elizabeth II, who ruled the country for over 70 years with poise and dignity, Lincolnshire businesses and local leaders have been paying tribute and offering messages of condolence.
Queen Elizabeth II was welcomed with open arms during many royal visits to Lincolnshire over the years. In June 1958, she made a notable visit Lincoln, Scunthorpe and Grimsby, unveiling a commemorative tablet marking the formal opening of Pelham Bridge, taking a tour of the cathedral and unveiling a window in memory of the Flying Training Command Unit of the RAF, as well as touring Grimsby's fish docks and Scunthorpe's Appleby Frodingham Steel Works. The Queen visited these parts once again, in 2002, celebrating her Golden Jubilee.
During her visit to Scunthorpe, she made history by visiting a British mosque for the very first time. Accompanied by Prince Phillip, she also unveiled a plaque at the Parishes development as well as visiting Lindsey Lodge Hospice and the picturesque Normanby Hall Country Park.
The Queen also made many visits to Royal Air Force stations in Lincolnshire. In 2009, for instance, the Queen and Prince Phillip visited Lincolnshire to inspect the Graduation Squadron of the RAF Regiment at RAF Cranwell Lincolnshire. She visited again in 2017.
Queen Elizabeth II was also a regular attendee at the Burghley Horse Trials and in 1981 officially opened the Humber Bridge.
Queen Elizabeth II was born on 21 April, 1926 in Mayfair and ascended to the throne on 6 February 1952. She died on Thursday 8 September 2022, having ruled with grace as the Queen for 70 years.
Lincolnshire County Council council leader, Cllr Martin Hill OBE, said: "This is an extremely sad time for the entire nation. As the longest serving monarch in our history, The Queen has provided stability and leadership through changing times and many challenges. It is with great fondness that we look back on her many visits to Lincolnshire during her impressive reign. We were fortunate to host her several times, which enabled her to meet local people and see what our county offers.
"Lincolnshire was also a special place for her because of her regular visits to RAF Cranwell where her grandson, Prince William, trained to be an RAF pilot. And, because of her love of horses, she also attended Burghley Horse Trials near Stamford. For me, she was such an inspirational lady and a wonderful leader, full of grace and dignity. She will be greatly missed."
The High Sheriff of Lincolnshire, Tim Strawson, said: "The Queen's passing is an event of great magnitude, it is hard to imagine life without our Queen. She represented more than anything else, decency, humility and duty. I know that the people of Lincolnshire will want to pay their respects. She must be the greatest Briton that has ever lived."
Miranda Rock, of the Burghley Estate, said: "The Queen has been a constant presence in all our lives and we will all cherish so many happy memories of her extraordinary reign.
"How lucky we were to welcome the Queen to Burghley for the great picnic celebrations, with our four neighbouring counties, to mark Her Majesty's 60th Jubilee in 2012. A tremendous occasion and such a privilege to host Her Majesty and the thousands of people who attended.
"With a sense of profound gratitude we join the nation as we mourn the loss of Britain's longest serving and universally loved monarch."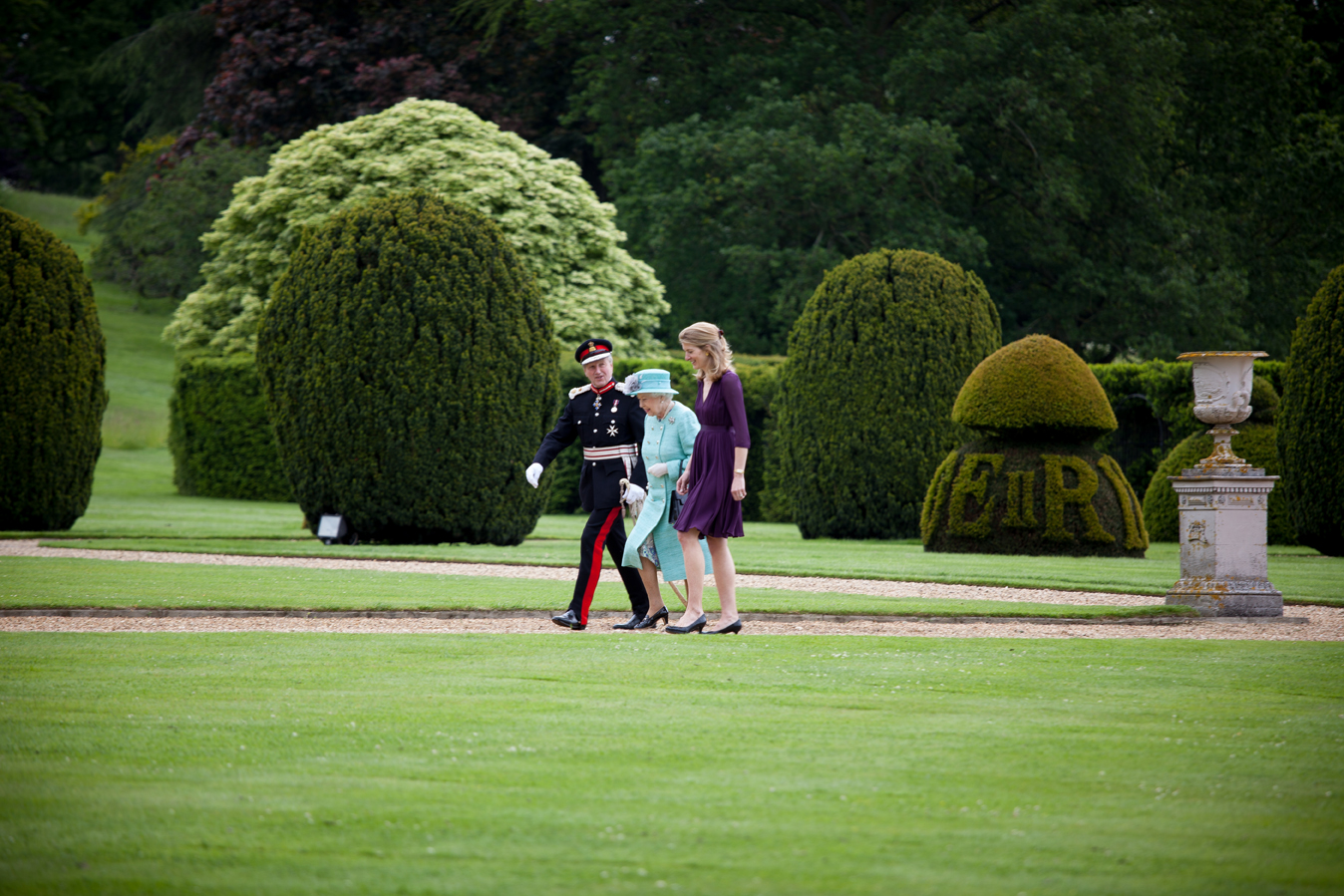 Josie Rossington, from Follie, Lincoln, said: "I'm afraid that words seem to have escaped me today, a bright light has gone out and the sense of loss has hit me much more than I could have anticipated."
West Lindsey District Council chairman, Cllr Angela Lawrence, said: "It is with much sadness that we have learned of the passing of our Sovereign Lady, Queen Elizabeth the Second.
"My sadness at this time is shared with Members and Officers of the Council and, I am sure, all residents across the whole of West Lindsey District, as we remember with affection and gratitude the lifetime of service given by our longest-reigning Monarch of 70 years.
"As a mark of respect the Union Flag will be flown at half-mast on the Council flagstaff until the morning following the funeral."
Bransby Horses Chief Executive, Jo Snell, said: "We are extremely saddened to learn of the passing of Queen Elizabeth II. We extend our deepest condolences to the Royal Family and join the nation in mourning the loss of Her Majesty.
"The Queen's love of horses has been a joy to watch throughout her reign, her lifelong devotion to horses made her a great ambassador for equine welfare and the important work that we and other animal welfare charities do. We will miss her influence and connection with the equestrian world."
Cllr Steve Beasant, mayor of North East Lincolnshire, said: "It is with profound sadness that North East Lincolnshire Council learnt of the death of Her Majesty The Queen today.
"Queen Elizabeth II had served her country, Commonwealth and people loyally for more than 70 years and she is the longest serving Monarch to have overseen the United Kingdom and Countries of the Commonwealth.
"Flags across the Borough have been lowered to half-mast as a sign of respect for Her Majesty's passing."
Susie Parker-Garrick, from Lady Pea's Dogs, said: "After hearing the very sad news yesterday with regards of the passing of our beloved Queen, our thoughts are with her family but also with her beloved animals that were very much a big part of her life.  Her Royal Majesty is leaving a gigantic hole that will be felt by us all including her animals who I'm sure will miss her deeply."
His Majesty's Lord-Lieutenant of Lincolnshire, Toby E.D. Dennis Esq, said: "I share the sadness of people across the globe following the passing of our late Sovereign, Queen Elizabeth the Second. We remember with affection and gratitude the lifetime of service given by our longest-reigning monarch.
"The basis on which our monarchy is built ensures that throughout the centuries, the Crown has passed in an unbroken line of succession. Across Lincolnshire, residents are invited to attend formal Proclamations of the passing of the Queen and the announcement of the King."
South Kesteven District Council chairman Helen Crawford said: "It is with much sadness that we have learned of the passing of our Sovereign Lady, Queen Elizabeth ll.
"My sorrow at this time is shared with Councillors and Officers of the Council and, I am sure, all residents across the whole of South Kesteven District, as we remember with affection and gratitude the lifetime of service given by our longest-reigning Monarch.
"During her reign The Queen visited the District on a number of occasions, including a visit to Stamford and Burghley in the summer of 1961 and a subsequent visit in June 2012 for her Diamond Jubilee.
"As a District we have all greatly valued her leadership, longevity and dutiful dignity and I like to think she had special memories of South Kesteven."
The Acting Bishop of Lincoln and The Bishops of Grimsby and Grantham said: "It is with deep sadness that we, your bishops, received the news that our Sovereign Lady, Queen Elizabeth died yesterday afternoon. It is taking time to sink in that the monarch most of us have trusted and relied on all our lives has been promoted to glory.
"Others are better placed than us to extol her merits as the key figure of the unity of our constituent parts as the United Kingdom. We can say with conviction and knowledge that Elizabeth II provided the moral compass which all public leadership should emulate, not only in the United Kingdom but throughout the other nations where she has been head of state and head of the Commonwealth. We know how loved and respected she has been by the people of Greater Lincolnshire and particularly by those who had the huge privilege of meeting her personally in her visits to the county, most recently in 2012 during her Diamond Jubilee.
"King Charles, as the Prince of Wales, addressed Queen Elizabeth in the celebration of her Platinum Jubilee and thanked Mummy for living up to her promise to serve her people for her whole life. We praise God for her seventy years on the throne and for the previous years of service as a princess in war and peace. We give thanks for her reunion with Prince Philip and all her departed loved ones."
Images courtesy of Burghley House